(June 28) Here's a photo of Charice tweeted about by Mr Willy Foo ("Photographer, Marketer, Technopreneur, Geek") from Singapore:
In his
Facebook album
where he posted the above, Mr Foo mentioned that the event "was a corporate party where she did a special guest appearance". Thanks, Mr Willy Foo for sharing this wonderful photo!
(June 25, LA time) Charice arrives at the LAX airport after her Singapore-Tokyo, Tokyo-LA flight. Just like in Singapore, Chasters welcome her at the airport.
(June 25) Still no news about where Charice and the band performed last night though we can expect that it was roof-blowing, knowing Cha's performance level each time. Based on this single tweet around seven this morning, it seems they are going back to Los Angeles today.
TroyLaureta:
Going home.... ahhhhh Los Angeles, how I miss you.
Here's wishing Charice will pass by the Philippines so she can enjoy a bit of time with her mother and brother. Have a safe trip, Charice and the whole band!
(June 24) Charice Back in Town
http://entertainmentsingapore.blogspot.com/2011/06/charice-back-in-town.html?showComment=1309051876827#c1132087238374088710
I only found out that she was back in town when one of the many journalists who tweet, tweeted while attending the press conference at her hotel. Manfred and I decided to check it out later in the evening and Charice finally emerged at about 10, dressed in black and surrounded by her entourage.
(June 24) More updates of Charice in Singapore are coming in through Twitter and YouTube:
Charice Press Conference on RazorTV (below is the link to a Youtube playlist):
http://www.youtube.com/watch?v=wBEXKhQD_2E&playnext=1&list=PL0C1001E03F390467
@TroyLaureta: My boss, Ms. Pempengco! She's cooler than cool! :)
More tweets from Troy:
(At around 8pm today) Show Tonight with @OfficialCharice. Let's do it, ya'll!!!!!!

(Around 6pm) Had a hilarious soundcheck with the band and Ms. Pempengco! Good times!!! Should I post a video?
Candid interview of Charice uploaded on YouTube by
ElectricNewPaper
:
Karaoke tip from Charice: "If you're a guy, you really shouldn't be singing my song .."

http://youtu.be/aGNk39VAqyc



Charice on who her favourite person from Glee is

http://youtu.be/NwscqR6CSZQ

More coming on their website:

http://www.tnp.sg/content/charice-hits-back-facebook-critics
Charice Pempengco LIVE @ St. Regis Singapore with Power98 FM! (Photo album)
http://www.facebook.com/media/set/?set=a.246037658746102.83264.125639837452552
(June 24) This is so much fun, constantly updating this post with the tweets and photos from Chasters and Singaporeans who've had the luck of meeting Charice! The mystery remains, where will she perform?
(June 24) Charice's corporate show and press conference today in Singapore:
Radio_913 Radio 91.3 Singapore:
Is At Charice Press Conference With Boy Thunder!


Photo courtesy of Singapore's Radio 91.3 Facebook page

enewsasia E! News Asia:
So what are you waiting for? Tweet us your questions for @OfficialCharice and you might just get them answered!

ChrisWrate:
Show today w/ Charice. Gonna be dope!

actionrj:
In the same Corporate gig today with Charice. But wish I was singing with her!
Above info's not yet confirmed though.
It seems this won't be the venue of Charice's show as can be implied from another tweet from Troy "no... not the arena".
(June 23) More tweets and photos of Charice's arrival (from Singaporean Chasters):
ChariceSING said: When taking the group photo, Charice didnt notice my friend I were behind her at first. When she did, she said 'waitwaitwait!' & adjusted herself properly & put her arm around me to make me feel I belonged there. A true testament of how kind her heart is. That was the first time we came into contact! My heart melted cus she was so nice.
See more photos shared by ChariceSing here.
On YouTube
(Also: http://youtu.be/SI-IFB82zFk)
Uploaded by capofret23 (from approx. 0:18-1:24 were blacked out by the uploader; see description on YT)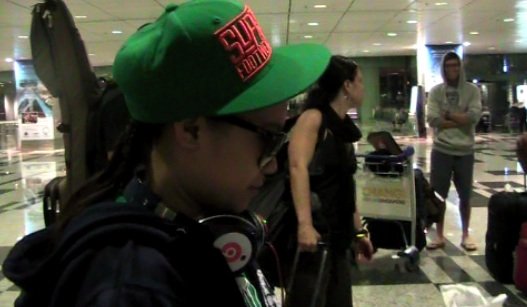 CAPOFRET: lol ok here again @OfficialCharice at changi airport bit.ly/kbtgbb
ChariceSing:
Sorry chasters. Batt is dying & I'm outside. I'll reply later. I rly don't wna brag abt anyth, so I'll just say, Charice was super nice :)

ChariceSing:
@OfficialCharice thanks for being sooo nice to us!!! have fun here in Singapore. We labyo labyo! :D

ChariceSing:
Singapore chasters good job!! We all met Charice :) she was sooo nice! So nice! The band too!
Tweets from Chrice's band:
TroyLaureta
(June 20) Last rehearsal for @officialcharice tomorrow. Let's make it amazing!! :)

(June 16) Rehearsal time with @OfficialCharice and the band! Are YOU ready!!!!????

ChrisWrate
(June 20) Bedtime. Crazy day tomorrow. Final rehearsal w/ @OfficialCharice. Getting ready to move into a new place. Packing. Laundry. Hectic!

(June 17) Off to rehearsal w/ the Charice band. Dope arrangements, tight groove, epic rock. Singapore's gonna be slammin!


Original post:
After Charice mentioned in her Hollywoodlife.com interview about going to Singapore, we've all been excited to know more about it.
Last year, she was part of the
David Foster and Friends concert featured in the 2010 Singapore Sun Festival
. For 2011, below is all the information I could find on Charice in Singapore, perhaps because it will be "available for corporate bookings only".
Write-up above says:
Described by Oprah Winfrey as "The Most Talented Girl in the World" and David Foster's most recent extraordinary young artist, Charice leaves audiences stunned at her richly developed voice which is often compared to Whitney Houston and Celine Dion. With a profound, rich and soaring voice, this 18-year old singer leaves her audiences literally gasping. Available for corporate bookings only.
Below is another page from the same newsletter:
HITMAN David Foster & Friends returns for a second Asian Tour in October / November 2011 following a successful Asian tour last year. David and his friends including Natalie Cole, Charice, Peter Cetera, Ruben Studdard and The Canadian Tenors performed to sold out houses in Tokyo, Bangkok, Manila, Jakarta and Singapore in 2010.